Accommodations

Villas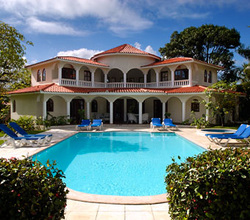 The Villas are the ultimate in luxury and exclusivity. Each is a small
estate home with sumptuous, private 3, 4, 5, 6 or 7 bedrooms that offer guests
a unique and exclusive vacation experience. The best thing about a Villa stay is
when you just want to relax in the privacy you have in your own private swimming
pool, large terrace, and exotic garden. (Some come with outdoor Jacuzzi). Each
Villa is a unique concept; nevertheless they all feature the following basic
attributes: master bedroom suite, elegant bedrooms with full private bathrooms
and air conditioning, living area, formal dining area, terrace dining area,
shady terrace with outdoor furnishings, satellite/cable televisions, full
kitchen with a fridge stocked daily with soft drinks, water, and beer and snacks. Fully
trained staff -- chef for breakfast, housekeeper, gardener, pool cleaner,
and 24-hour security -- complete these perfect accommodations for our guests.
---
Crown Suites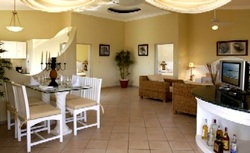 Poised upon the spectacular hills overlooking the Lifestyle Holidays Vacation
Resort, the Crown Suites offer all the comforts and amenities of home set within
a tropical oasis. Just a three-minute stroll from Cofresi Beach, guest enjoy
Caribbean elegance at its finest. Featuring classic Spanish-Mediterranean
architecture with red barrel-tile roofs, guests can choose from spacious, one-
or two-bedroom suite accommodations. Each Suite features a private balcony or
terrace with spectacular views, a separate living area, and a kitchenette
equipped with appliances. The fridge is stocked daily with water and soft
drinks. Our guests staying in the Crown Suites have access to all the facilities
of the Resort including swimming pools, a choice of excellent restaurants, exercise rooms, tennis courts, and so much more.

---
Royal Suites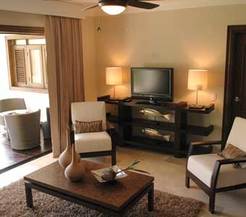 Imagine waking up in your own luxury suite as another perfect day dawns in the Dominican Republic. A gentle sea breeze rolls in as you enjoy fresh island fruit and a cup of famous Dominican coffee on your private terrace. Just a three-minute walk away, breathtaking Cofresi Beach awaits with water sports, sailing, deep sea fishing and the aquatic wonders of Ocean World. And, as a guest of Dream Vacation At Lifestyle, you can plan to enjoy even more exclusive VIP privileges. The Residence Suites offer every comfort and luxury of a first-class vacation destination. Set within several three-story Spanish-Mediterranean hillside buildings, couples and families can enjoy our two-bedroom suite with spacious living and dining areas, private baths and fully-equipped kitchenettes. Each fridge is stocked daily with water and soft drinks. No detail has been overlooked to assure your vacation experience provides every comfort and luxury. Our guests staying in the Royal Suites have access to all the facilities
of the Resort including swimming pools, a choice of excellent restaurants, exercise rooms, tennis courts, and so much more.
---
Tropical Studios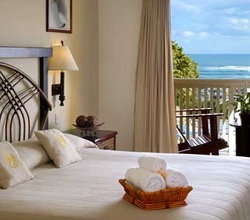 Take advantage of the luxuriously appointed Tropical Junior Suites (Studios) within quaint two- and three-story Mediterranean-style buildings located in the heart of the Resort. The Junior Suites are ideally suited for two occupants but are also excellent for couples with a small child. Each Junior Suite is furnished with one king-size or two queen beds, is tastefully decorated, and has a comfortable living area. Each Junior Suite has its own spacious balcony or terrace with breathtaking garden or ocean views. Tropical Junior Suites have a large bathroom with separate shower area. Each suite is equipped with mini fridge, stocked daily with water and soft drinks. Each unit is equipped with cable TV, air conditioning, clock radio, coffee maker, hair dryer, iron and ironing board, and safety deposit box. Imagine enjoying your morning coffee without having to leave your room, or late afternoon drink, while relaxing on your balcony and enjoying the scenery. You may never want to leave.

---
Presidential Suites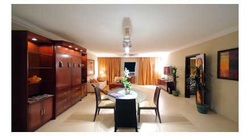 The Presidential Suites offer a matchless vacation experience for the most discriminating traveler. The Presidential Suites set a standard of lavish comfort with scrumptiously appointed one- and two- bedroom suites, filled with dramatic furniture and stainless steel appliances. These suites are distributed in several 3-story buildings with garden, mountain or pool views. All suites are dramatically decorated with dark, rich wood, and stainless steel accoutrements and appliances. Each is equipped with: Living room with fully equipped kitchen with refrigerator, stove, microwave, coffee maker and blender. Dining area with pull down Murphy bed; One or two private bedrooms; Private bathrooms; Air Conditioning; Ceiling fans; Direct Dial Telephone; Cable TV; Safe; Coffee Maker; Iron and ironing board; Radio-Alarm clock; Large balcony or terrace; Hair dryer; One King size bed in one bedroom and two queen size beds in the other bedroom, Flat screen TV's in living and bedrooms, Jetted Tub in each bedroom.Shaded patios and verandas provide a relaxing place to gather. Amenities include: a large centralized pool with waterfall; Jazz, a French Fusion Restaurant; Bourbon Street bar; three tennis courts; and a full-press lighted basketball court (night play $). The smallest details have been carefully crafted to provide guests with every comfort and luxury available, making the Presidential Suites a one of the most relaxing, enjoyable and satisfying experiences ever. Providing both service and features that are beyond compare, the Presidential Suites offer a unique luxury accommodations experience.

---
Confresi Palms Beach and Spa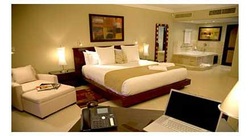 The Confresi Palms is only footsteps away from the beach and pools. Nearby amenities include a large centralized pool with waterfall; Spanish fusion tapas bar; Bourbon Street Bar; three tennis courts, and a full-press lighted basketball court, and spa.

---